When I heard that a new brewery was coming into town a few months back, of course I got excited as the Charlotte brewery scene is booming. I saw the name of Brewers at 4001 Yancey and was confused like most, but after visiting the name makes much more sense. This 28,000 sq ft beer palace instantly jumped to one of my favorite breweries in Charlotte. Located in the lower South End area(or LoSo for you cool peeps), Brewers at 4001 has the potential to become the staple for an area that was already great for hanging out and grabbing drinks. Victory Brewing Co, Southern Tier, and newly added Sixpoint brewery are the headliners at Brewers at 4001 Yancey, thus the name "Brewers". I'm actually excited to know that they'll be adding more and more awesome breweries all under one roof.
The best bar food in Charlotte?
Now of course most people will be visiting Brewers for the beer, and they definitely should, but I have to talk about their food first. Chef Drew Ward is killing the game here and I'd seriously come here just to enjoy a meal even when I don't want a drink. Most of their food items include one of the beer selections featured at Brewers somewhere in the dish which is a great touch. I often hear people say they don't want to visit a brewery since they are not fans of beer - well at this one you can eat great as well!
Seriously one of the best pretzels that you'll find around Charlotte. This is paired with a Hop Devil mustard and a Prima Pils cheese sauce. As their names suggest, they both feature Victory beer in them. The Hop Devil mustard has a nice "kick" to it similar to a horseradish(but there is actually no horseradish in it). I love beer cheese so of course I enjoyed it as well.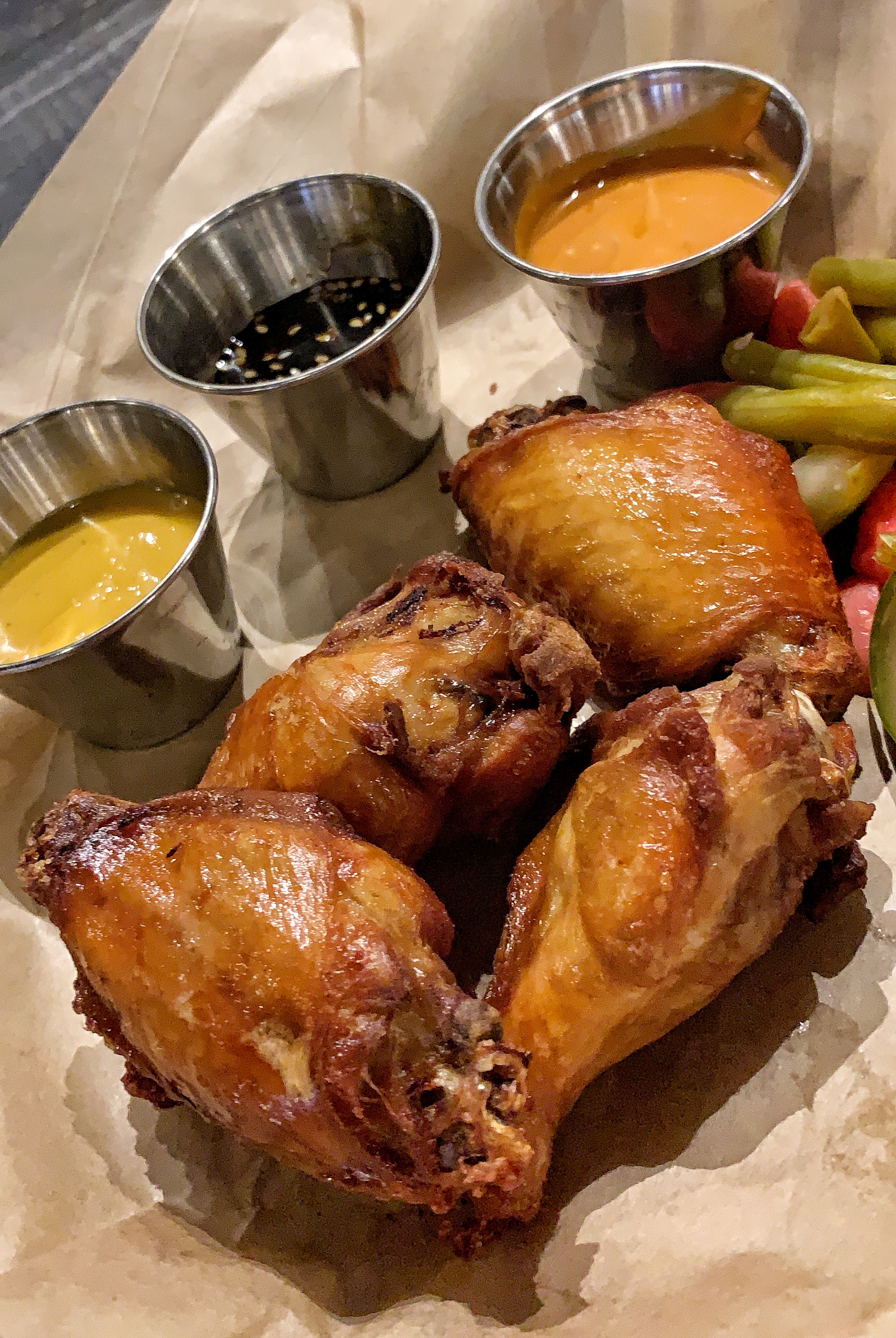 So these were are surprise because I haven't heard many people talk about the wings at Brewers at 4001 Yancy, but they should. These wings were GREAT. They are marinated by Chef Drew for a day, so yes they are delicious. They are so delicious you may not even need the sauce, which is provided on the side for you. Each order of wings comes with a side sauce of buffalo, sc mustard, and a molasses glaze. Of the sauces, the buffalo was my favorite. I couldn't get enough of it!
If you're a mozzarella fan, then this dish is for you. Beautifully prepared mozzarella with pickled beets, watercress, oranges. The coolest part of this dish - DEHYDRATED HOPS sprinkled throughout. This was a really nice touch and definitely made it memorable.
These shrimp were like little bites of deliciousness. If you're a fan of spice, these will do the trick. They are cooked to perfection and despite being spicy, they still have great flavor which sometimes gets lost in many spicy dishes. This shrimp features Lake Shore Fog Habanero sauce and a hint of honey and cilantro. Well balanced and cooked to perfection, these shrimp are a hit.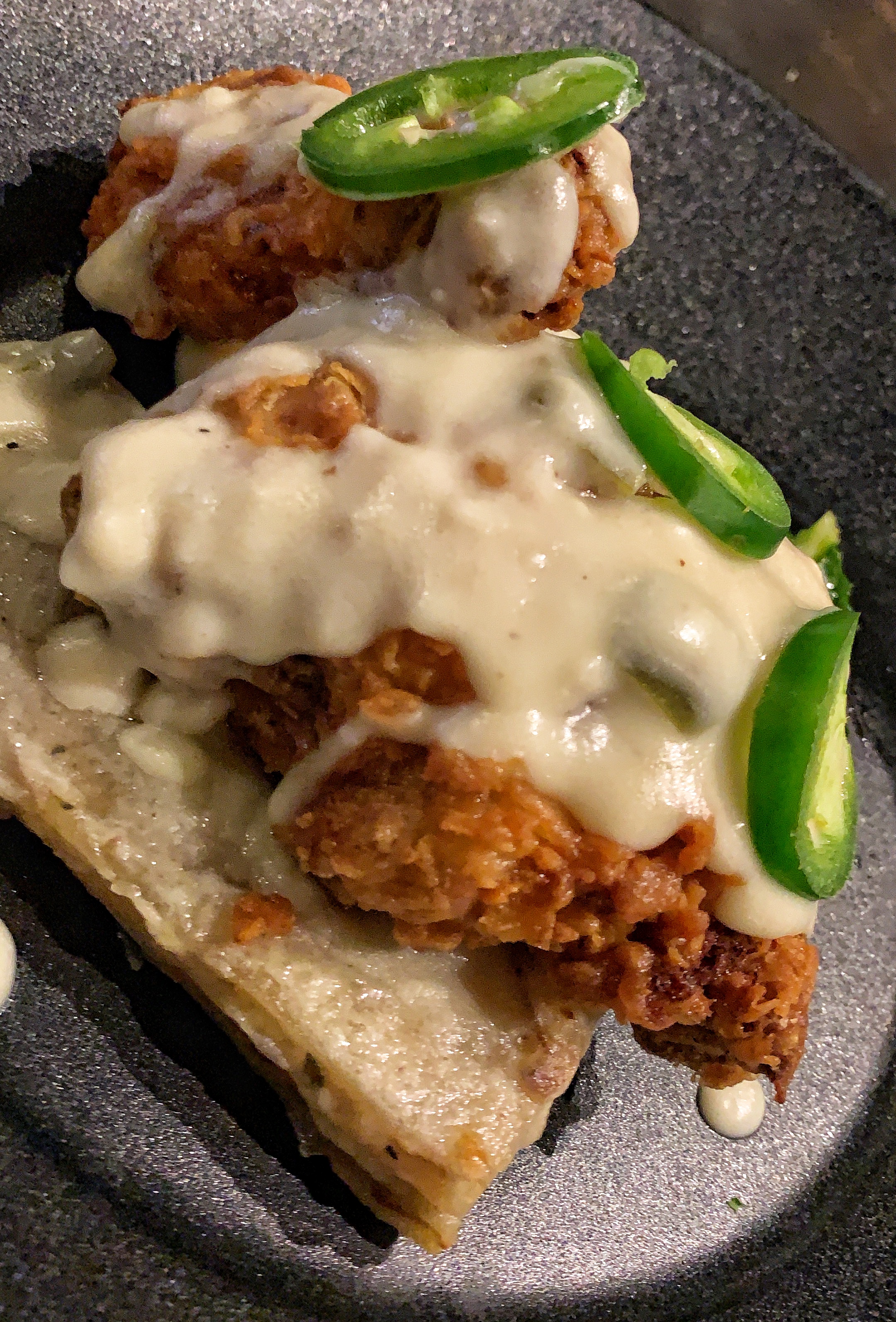 8 Days a Week Fried Chicken
Whew, yes at this point I was getting full but after digging into this dish I definitely had to make some more room. The chicken here is marinated for over 24 hours, and you can tell. The dish also features bacon, scalloped potatoes, smoky greens, and jalapeno gravy. The chicken was fried perfectly and those scalloped potatoes underneath were phenomenal. I could eat a plate of just these potatoes!
Jambalaya at a brewery? The answer is YES and it is delicious! I love Jambalaya and I'm typically not impressed with most, but the Jambalaya here is great! It features smoked sausage, NC shrimp, chicken, Carolina gold rice, and a Sour Monkey red pepper sauce. AMAZING! The flavors in the sauce came through really well and the rice to meat ratio was great which is where restaurants often skimp! I'd order this again. I love having this option before diving into some brews!

As I said in the beginning, Chef Drew Ward is definitely killing it at Brewers at 4001 Yancey! They are putting together some truly great food at Brewers. I know most people will be coming here for brews, but I did have to take a second to touch on the amazing food here as well before we got into the beer side which will be featured in our next blog post. Stay tuned for it as well. They are doing it right over at Brewers at 4001 Yancey!